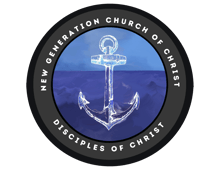 The church had its very first worship service on Sept. 3, 1972 at 3400 Germantown Ave. Elder Herbert Mitchell was the guest preacher and Brother Rodney Jubilee was the first member to join the church. The Germantown location was a starting point for New Generation but it was not meant to be a permanent home. The church relocated shortly after to having services in a small space on Delhi and Dauphin Street. There, Elder Perry preached faithfully every Sunday to her mother, Jennie Rogers and her daughter Geraldine Henderson. The Sunday School students at the time were the children of Sister Beulah Harris.
The church faced problems at the Dauphin location and soon had to seek the Lord for a new place of Worship. In 1973, The church moved to a having services at The Guild on 735 Fairmount Ave, a center where the church could rent space. Every Sunday Mother Rogers would set up the chairs for service and make breakfast for the church. Many souls came to Christ while New Generation was at this location. Many of the church auxiliaries were established at this location as well. Sister Pauline Carter was named head of the Trustee Board, Deacon Samuel Holland was made head of the Deacon Board, and Sister Geraldine Henderson was the first official Sunday School Teacher. Minister Nancy Carter, the president of the Usher Board and Choir minister, preached her trial sermon April 19th 1978 and she would go on to be the right had of Elder Perry in later years.
While at the Guild, New Generation became an organized Church under the North Eastern District Assembly officially on September 14, 1973. Sister Pauline Carter and Brother James Perry Jr were the witnesses. New Generation spent a little over 5 years setting up chairs in this rented space while searching diligently for a permanent home. After years of obedience and diligence, on February 3, 1979, New Generation was finally provided a home by God. Elder Perry led a motorcade of members, friends, and well wishers to their new permanent home location, 1423-25 N Bouvier Street.
​
On November 7, 1982 at 3:30PM, the New Generation Church of Christ Disciples of Christ, Inc held it's mortgage burning ceremony with Elder Perry's Pastor, Elder Clyde Brown. It only took about four years of faithfulness to God's will for the congregation paying off the church building. It was all the more heartwarming for Elder Perry to have her pastor there celebrating with New Generation and he was honored to be the Guest Preacher for the service. Elder Perry served as the Pastor of New Generation for many years after this. The Church attracted many strong, faithful youth who worked to build up God's house. Brother Harry Washington joined New Generation and brought along with him Minister Mark Fulton who went on to become the Youth Minister. Elder Herbert Mitchell came to visit often to perform baptisms and guest preach. Elder Perry's husband James Perry Jr. lead the men of New Generation in building the baptism pool together by hand. Every member contributed to building a warm, God-fearing church of God; a sincere house of worship.
Many weddings and funerals were officiated during Elder Perry's time as Pastor of New Generation. The most unique wedding was Joan Carter's marriage to David Cuffie on his death bed. The most unique funeral held was for Deacon Holland, who had so many in attendance that people had to stand downstairs in the sanctuary, upstairs, and outside. Elder Perry Perry pastored New Generation for over 40 years, doing God's work. During her service, New Generation Church saw many members come and go and many members go onto Glory. Through it all Elder Perry continued to do the Lord's work, even In spite of her failing health, until he called her home February 1, 2013. It was Devine intervention that God sent to New Generation a "Ram in the Bush", anticipating her ascension. Having befriended Elder Perry and members at a retreat, Bishop Darryl Rouse Sr started a relationship that would later lead to him becoming the next Pastor of New Generation Church of Christ.
​
With a small but dedicated flock, Bishop Darryl Rouse Sr, was installed by New Generation Church on May 24, 2014. Bishop Rouse has been lead by God to step in and work to revitalize and re-center the church. He has given the church a new theme from Psalm 37 3-5 :"A New Focus for a New Generation". Since Bishop's installment, the Church has gotten more in touch with the North Eastern District and the Diocese churches and worked to get more involved in the community around the building. The church has started a community choir to engage people through music, and done outreach in the surrounding neighborhood. Under Bishop Rouse's guidance, New Generation will continue to follow God's call to spread the gospel of Christ.
New Generation Church of Christ, Disciples of Christ, was founded by Elder Ida M. Perry in 1972. She had committed 25 years of faithful service at St. Peter Church of Christ under the Past Bishop Clyde Brown and then God called her to tend to a portion of his flock. New Generation's name was inspired by the word of God in Numbers 14, where a generation of people needed to be lead out of the wilderness and into the promise land.